World Confederation of Education - COMED
• AIMS
• 1989 Definitive Constitution
• 2019-2024 Council Management
• Honorary Members
• International Relationships
• Diego de Losada Order
• Medal to Educational Merit
• 2010 Iberoamerican Congress of Education
• Association of Private Education Puerto Rico
• Education for all
• Juan Evo Morales Ayma was distinguished with the Doctorate Honoris Causa by COMED
• Honoris Causa Doctorate received by Mr. Rodolfo Terragno
• CRES 2018
• World Congress
• 1990 Sao Paulo, Brazil
• 1992 Madrid, Spain
• 1994 Moscow, Russia
• 1997 Caracas, Venezuela
• 1999 Paris, France
• 2002 Buenos Aires, Argentine
• 2004 Madrid, Spain
• 2008 Valencia, Spain
• 2012 Madrid, Spain
• 2013 Bali, Indonesia
• 2015 Lisbon, Portugal
• 2017 Puerto Vallarta, Mexico
• 2019 Montclair (NJ), USA
• 2022 Buenos Aires, Argentine
• News
• An Ecumenic Message in favour of the freedom to teach
• Contact Information
AIMS
1. To bring together Associations and Federations of Private Education from all over the world, in order to promote the exercise and implementation of the right to education respecting pluralism and the right of parents to choose the type of education their children will receive (as these rights and interests stem from and are protected by the Judicial System and educational traditions of each country and also by international organizations devoted to these issues and to promote the Interests of independent education), whatever the religious, philosophical or social principles may be, so long as they conform to those principles stated in the Universal Declaration of Human Rights.

2. To foster the growth and improvement of education in all countries, considering not only how many people it reaches but also institutional excellence and the effectiveness of service.

3. To uphold and defend the Human Right to education and cultural expression, with freedom to choose the Institution and educational system which best responds to individual convictions.

4. To support and preserve the creation and existence of private educational entities, by performing those actions which may best lead to the defense of the rights of such entities, and by fostering the establishment of national legislation aimed to insuring the Integration of institutions of private education in every country.

5. To encourage the creation of federations and associations of private entities in all countries to act as an integrating body which can facilitate encounters to insure the fullest realization of the objectives of those federations and associations, with absolute respect for their autonomy.

6. To foster the professionalism and permanent development of teachers who work for the private sector.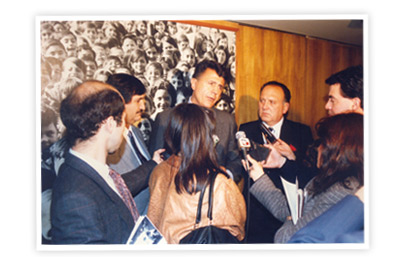 DR. EDGARDO DE VINCENZI, PRESIDENT OF COMED, DURING A PRESS CONFERENCE WITH O GLOBO NEWSPAPER IN SAN PABLO.
TO GUARANTEE THE ACHIEVEMENT OF THESE OBJECTIVES, THE FEDERATION SHALL:
1.
Sponsor meetings, workshops, congresses, conferences, symposia and many other academic activities related to educational issues and the realization of its objectives.
2.
Make public its purposes and accomplishments through the distribution of bulletins and the diffusion of educational and cultural materials.
3.
Foster the exchange of educational administrators, institutions, teachers, and students among countries, in order to carry out studies and research aimed to strengthening international integration.
4.
Support agreements on behalf of the Federation's objectives between its members and any other national, regional or international organization of similar nature.
5.
Maintain solidarity with existing or yet-to-be-created organizations with similar objectives, as well as with international organizations, by sponsoring and holding the necessary meetings to achieve the designs set forth in these by-laws.
6.
Promote the creation of educational or cultural institutions which aim to the achievement of these purposes.
7.
Promote the exchange of knowledge and skills, plans and programs, methodologies, technologies and educational experiences in general, as well as the exchange of rules and regulations concerning these items, by providing proposals and information to national education systems.
8.
Support, publish, and implement prevention and public-service campaigns connected to the issues of education and culture.